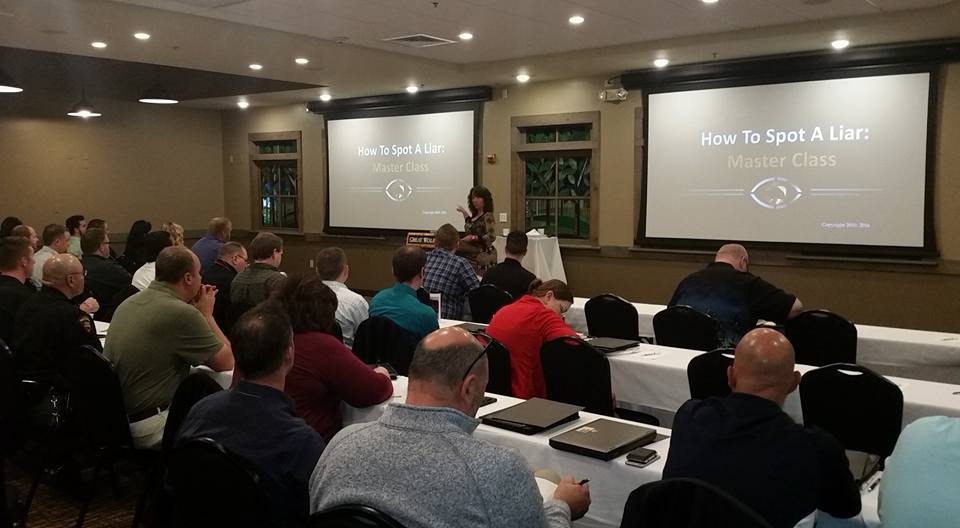 Deception Detection Training
FOR INTERVIEWERS, FRAUD INVESTIGATORS, INTERROGATORS, HEALTHCARE WORKERS, HR HIRING MANAGERS (or anyone who needs to get to the truth)!
If you are looking for a top-rated, highly skilled expert to teach you about deception and human behavior then you've come to the right place.
Renee offers a 1- , 2- , or 3-day course on how to spot lies for professionals, corporations, and law enforcement in privately hosted classes.
Don't want to host a class–Renee has a course open to the public:  click here.
As a rare expert identified in a scientific study, Renee teaches scientifically-based techniques that deliver increased proficiency to even the most seasoned professionals who work in deception.  Participants often say they rely on hunches when the class starts; but afterward they are able to articulate why they think someone is lying, using factual and behavioral evidence.
With over 20 years of experience training people, Renee has been hired by government agencies to train law enforcement professionals at federal, state and local levels from Los Angeles, Chicago, New York City (Manhattan & Brooklyn), Washington, D.C., Atlanta, Houston, Honolulu, and Las Vegas just to name a few cities.
Renee's classes range from 20 students to 300, and she's spoken to audiences as large as 500. Renee is continually told that her class ranks "THE BEST" by law enforcement attendees who have decades-long experience.
Students in her law enforcement classes have come from a wide spectrum of institutions*:
Homeland Security Investigations (OPR), FBI, Secret Service, DEA, HIDTA, FLETC, U.S. Department of State, U.S. Department of Commerce, Bureau of Narcotics Enforcement, U.S. Dept. of Labor, U.S. Coast Guard, National Guard, U.S. Customs, Department of Corrections, District Attorney offices, HUD, U.S. Federal Courts, U.S. Postal Inspection Service,  U.S. Probation Department, TSA, Metropolitan Transportation Authorities, Military, National Insurance Crime Bureau (NICB), Amtrak Police, IRS, Sheriffs, University police,  Office of Inspector General, and state and local police/fire departments.
*List not all-inclusive