If you caught 48 Hours this past weekend, what a story they told. You can't believe the situations people find themselves in, and how they react and handle them until you see it sometimes. Emotions can cause people to do dumb and devastating things. Emotions, if not controlled, will derail you faster than anything else in this world, and that is what appeared to happen in this story.
Frances and Bill Hall were married 32 years. They were high school sweethearts. Bill Hall built a successful trucking company and it appears his success got to his head. He felt entitled to have a very young girlfriend (half his age), and a wife. He kept communications open with both women even after his wife knew about his infidelity. And worse, his mistress, Bonnie Contreras texted his wife horrible things and attacked her on social media.
One day in October, Frances saw her husband and Bonnie driving on the road the opposite direction, and says she did a u-turn to confront Bonnie.  Witness spotted the two women driving fast and erratically, and reported it to police. And the man in the middle, Bill Frances was there too, on his custom blue Harley, and tried to come between the women in some fashion.
In the end, something occurred where Bill's motorcycle went off the road, and he ultimately ended up dying from his injuries.
The question raised on 48 Hours and in the courtroom was:  Who was telling the truth?
Bonnie Contreras testified that Frances started ramming her vehicle from behind repeatedly. Then she says Bill was between them on his Harley, and that Frances hit Bill sending him flying off his bike. She testifies that she also saw the motorcycle fly off the road, too, and that Frances never stopped.
Frances claims she never hit Bonnie, and that she didn't hit Bill–that he wasn't between them. From the accident scene, it appears that Bill possibly grazed the side of Frances vehicle while riding on the shoulder, and lost control. Frances says she has no idea he was there or that she hit him.  Yet the state thinks she intentionally killed him in a rage.
Who do you believe is telling the truth?
_________________________________________________________________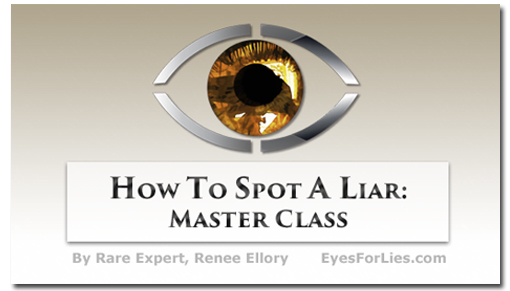 HOW TO SPOT A LIAR: MASTER CLASS
by Renee Ellory | Eyes For Lies
GET NOTIFIED of future class dates & sales! Click here
http://www.eyesforlies.com/wp-content/uploads/2015/02/black-logo-smaller.jpg
0
0
Eyes for Lies
http://www.eyesforlies.com/wp-content/uploads/2015/02/black-logo-smaller.jpg
Eyes for Lies
2016-10-19 13:04:08
2016-10-19 13:04:08
48 Hours: Frances Hall and Bonnie Contreras