With JonBenet Ramsey being a little "beauty queen" competing in pageants and center of her mother's eye, you can't help but wonder if Burke felt left out of the family. We can only turn to photos to see if there is any evidence of this.
When you look at this family photo of the Ramseys, it's startling to me.
It says so much.
Who is the center of this photo?  It's Patsy.  Not JonBenet or Burke–no, its her!
Worse, look at little Burke. He is literally put in the back–out of the way!  It's heart-breaking that his mom and dad could do this.  Usually children are the star of family photos–the prize of the family, their pride and joy.  But that's missing here, sadly.
When I look at Patsy Ramsey, I see a woman who lived in fantasy. She created images in her head that she wanted to be reality and she tried to create reality around these visions.  What reality was, however, was very different. I suspect she pushed reality away for her fantasies.
John Ramsey is pulling JonBenet close. Why didn't he put his arm around Burke then, too?
Do you notice how JonBenet's foot is turned awkwardly away?  That's a sign of discomfort–a pulling away.  You can even see her dress is crinkled because of her pulling-away motion! And her hand is curled slightly, not relaxed.  There is tension there.
When I look at JonBenet in the videos of her, I do not see a child who loves the beauty queen life. I see a girl doing what she's told–smiling, not because its genuinely felt, but because she was told to.
Of course, it is possible the photographer of this photo made a horrible suggestion to put Burke in the back.  But with all we know, Burke was sidelined when JonBenet became her mother's "doll".
Such a sad, sad story.
_________________________________________________________________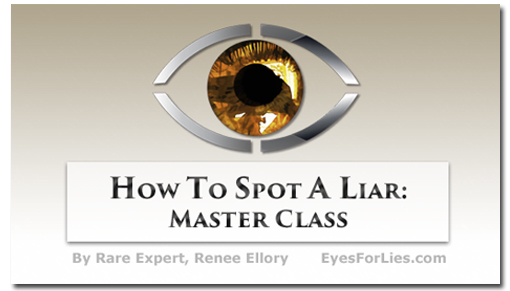 HOW TO SPOT A LIAR: MASTER CLASS
by Renee Ellory | Eyes For Lies
GET NOTIFIED of future class dates & sales! Click here
http://www.eyesforlies.com/wp-content/uploads/2015/02/black-logo-smaller.jpg
0
0
Eyes for Lies
http://www.eyesforlies.com/wp-content/uploads/2015/02/black-logo-smaller.jpg
Eyes for Lies
2016-09-22 14:52:44
2016-09-22 14:52:44
The Ramsey Family Photo