Casey Anthony did an interview with the Associated Press recently. You can watch it here.
Nothing has changed. She is as pathological as ever, lying to the interviewer through every question.  Not a shred of truth in her answers.
She can't admit the truth and probably never will.
This time she gives a new "version" of what happened to her daughter, Caylee.
This time she claims she fell asleep at her parents home with Caylee and woke up several hours later to find Caylee had simply vanished.
It's sad to hear the interviewer play along with her lies and say, "Don't you wish you knew what happened?" to which Casey replies, "Absolutely."
No, Casey knows exactly what happened.
If you notice she has no questions, no concerns, no worry.  She knows the truth without any shred of doubt.
Casey now says she is working for the lead investigator who worked on her case. I'd believe that only when I could verify it. Casey, being pathological, lies even when it doesn't even matter. Nothing she says can be taken at face value:  Ever.
I love when Casey Anthony says, "I sleep….pretty good at night."
Yeah, right, Casey. Just another lie…
I don't believe she loses sleep over Cayelee, but she does lose sleep over how her actions destroyed her life and took away her freedom. She may not be in a prison, but she knows if she shows her face in public and people know where to find her, they won't be kind to her.
Save
Save
Save
_________________________________________________________________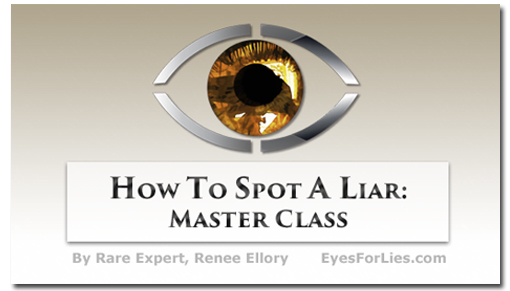 HOW TO SPOT A LIAR: MASTER CLASS
by Renee Ellory | Eyes For Lies
GET NOTIFIED of future class dates & sales! Click here
http://www.eyesforlies.com/wp-content/uploads/2015/02/black-logo-smaller.jpg
0
0
Eyes for Lies
http://www.eyesforlies.com/wp-content/uploads/2015/02/black-logo-smaller.jpg
Eyes for Lies
2017-03-07 09:26:44
2017-03-07 10:35:21
Casey Anthony Continues to Lie